We've all been in that position where we tend to misplace items more than we would like to admit, this can be both frustrating, annoying and can take up precious time, spending to search for these misplaced items, but what if we told you, that you would never have to look for a misplaced item ever again!!. Yes, that's right say hello to the Samsung Smart tag and goodbye to persistent misplaced keys, a fresh and helpful tool, designed to make the most unsatisfying times a bit more bearable.

What is a Samsung Smart Tag
The Samsung Smart Tag is a mini tracking device, designed in an attractive tag like manner, making it a very convenient way of keeping tabs on your items and also suits your ever hectic or leisurely needs. The Samsung Smart Tag has a 120meter locating range, user-replaceable coin cell battery and although it is only compatible with Android 11 and above it is a very helpful device when it comes to unsatisfying times such as, when you lose your purse, you can't find you're dog or you misplace your car in an already overcrowded parking lot, with the Samsung smart Tag you would never have to go through the dreadful task of wondering where you've placed your belongings.


Activating the Samsung Smart Tag
Setting up the Samsung Smart Tag is quite an easy task for anyone as it has step by step on-screen instructions that you can follow in the comfort of your home, office or classroom, all you have to do is follow these 3 easy steps:

1. Install the Smart Things App that you can download from your play store App, Open the App on your smart device in preparation for the smart tag.
2. Press the button on the underside of the smart tag to activate it, a pop up notification will than appear on the screen of your device.

3. Click the Add Now option, and proceed to follow the onscreen instructions to finish setting up your Samsung Smart Tag.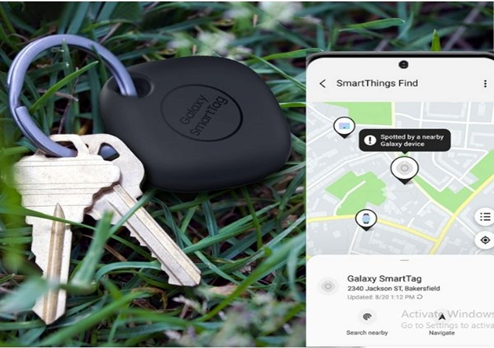 Alternatives uses for the Samsung Smart Tag paired with certain Apps would include , assistance
in smart household activities ,
activation of smart vehicles and so much more The capabilities
of this device is somewhat limitless,
and guess what FoneHaus has done
what has always been expected and brought The Samsung Smart Tag to your doorstep.
Now available to you in your very own Fone Haus stores and outlets, we have always made it our goal to make life more exciting yet easier and that is exactly what we hope the Samsung Smart Tag does for you 🙂